" I envisioned a certain piece that I wanted and asked Krys Creates if she could make it happen. I just received my art piece today and I'm speechless. I highly recommend!!! "
" Very professional! With you every step of the way through the process when it comes to retrieval of supplies, duration of job, shipping, tracking, etc. 5 stars! "
" I absolutely love both pieces of art that I have acquired from you. I absolutely love both and will be having many more pieces from you! Support local & black artist !! Thank you for making memes into works for art. "
" Outstanding Exclusive Art at a GREAT Price ♡ #issawin "
"She did a fantastic job!!! I wanted to keep the gift to myself once I saw how great she did. If anyone needs anything creative done, she's the one!"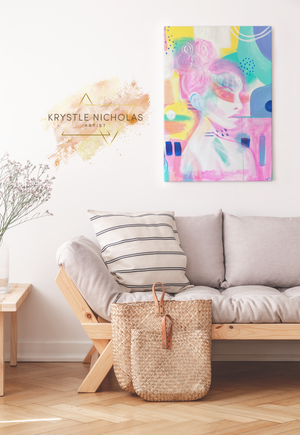 Vision 3 - Canvas Print
Sale price Price $45.00 Regular price Unit price / per
Gift Certificate
Looking for something for someone special? A gift card to our store is the perfect idea!
View
Meet The Artist
Hi, I'm Krystle. I'm a fun-loving wife and mom of two. I'm originally from Orangeburg, South Carolina. I'm a self taught artist and I truly enjoy expressing myself through my art. Acrylics are my medium of choice. Although this is true, most of my original pieces will incorporate several textures. This is why I consider myself a multi-media artist. When you purchase an item from my site, you are not only supporting a small business but you're supporting my passion.